It's always nice to get recognition in your hometown, especially if most people you know never read anything you write (unless, of course, they happen to be traveling to Japan….).
This short article appeared in the winter edition of Lawrence Magazine, ironically,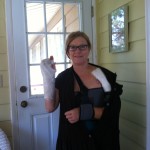 not long after my spectacular bicycle crash in which I broke my left arm and several fingers in my right hand, thereby rendering me incapable of hefting a suitcase, not to mention typing.
After surgeries in October and November (metal plate and eight screws in my arm; two screws in my right-hand little finger, which had only 15% of the remaining middle joint intact and required a bone graft from my hand) I am much better, since almost anything would be better than not being able to dress yourself, wash your own hair or cut your own food. Indeed, my left arm is now out of its sling and I can remove my finger brace to type, but there are several months of therapy in my future. Someday I'll be on the road again.